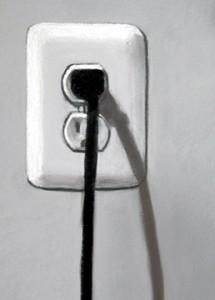 One of the things I've learned over the years is that we often fill out calendars so full of stuff that we don't fully invest in anything.  My personality is one where I can quickly find myself so focused on that one new shiny toy, that I forget about the other (and often more important) things in life.  I've had the opportunity through my experiences to spend a good bit of time evaluating what those things are that are truly important to me, and have made a number of changes in my life to focus on the ones that count. My guess is that they are common to many, but if you are naything like me, then you can't count how many times you've let less important things take center stage.
I'm an entrepreneur at heart, and I throw myself into projects with everything I have.  Sometimes it has proven successful. Sometimes it's been an utter failure. In every case I've learned something.  But one of the most important lessons I've learned is that I want more than anything else to be a good husband, a good father, and a faithful follower of Jesus Christ. That doesn't mean that I have to throw everything else away, but it does mean that I must constantly evaluate myself to see if my actions and my time are focused properly.
I'll use the term "plugged in" often and for two main reasons.  Plugged in describes my interest in technology, the Internet and gadgets.  I don't spend a lot of time watching sports, unless it's my kids playing, and I once described the Internet, websites and blogging to my wife as "my Monday night football."  I'll use this site to share my experience and interests with you in hopes that it will be useful, and in the hope that you will share yours with me.
Plugged in also reflects the type of relationship I desire to have with my Lord, my family and my friends.  I want to be engaged, grow closer, and build deep  and long lasting relationships in the areas of my life that matter most. I'll share those experiences with you as well and encourage you to share yours as well.
That leaves a lot of room in terms of topics to discuss, so I'm interested to see what this site will evolve into. Let's get started and find out.